Christmas Messages from the Board of Trustees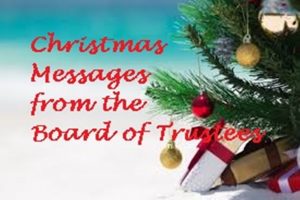 RAMIUS   SY
Good morning everyone.
I have been asked to share a message of encouragement for all of you today. With all the things happening around the world in the past year, we all could need some encouragement.
2021 is already coming to an end and 2022 is just around the corner. Even though it's only been a year, the world does not look like how it did before. The COVID-19 pandemic has impacted all of our lives including our health, occupation and even our future. We worry for our own safety, but not only that, the safety of others especially our loved ones who are more vulnerable to the virus. Aside from health, we worry for our job security as thousands of people have lost their jobs and source of income. We even worry about our future as the pandemic has been affecting us for a long time now and we begin to have doubts on our beliefs.
This pandemic has begun to strike doubt in our belief of our government, our healthcare system, our society, our belief in people and even our faith in Christ.
My grandmother shared these verses with me back in 2010 and it has touched my life ever since. These verses are taken from Matthew 6:25-34. "Therefore I tell you, do not worry about your life, what you will eat or drink; or about your body, what you will wear. Is not life more than food, and the body more than clothes? Look at the birds of the air; they do not sow or reap or store away in barns, and yet your Father feeds them. Are you not much more valuable than they? Can any one of you by worrying add a single hour to your life? And why do you worry about clothes? See how the flowers of the field grow. They do not labor or spin. Yet I tell you that not even Solomon in all his splendor was dressed like one of these. If that is how God clothes the grass of the field, which is here today and tomorrow is thrown in the fire, will he not much more clothe you—you of little faith? So do not worry, saying, 'What shall we eat?' or 'What shall we drink?' or 'What shall we wear?'. For the pagans run after all these things, and your heavenly Father knows that you need them. But seek first his kingdom and his righteousness, and all these things will be given to you as well. Therefore do not worry about tomorrow, for tomorrow will worry about itself. Each day has enough trouble of its own."
These verses remind us that: 1. God is always watching over us; 2. to always have faith in Him; 3. to cast our earthly worries aside and; 4. to seek first his kingdom and righteousness.
As we celebrate the birth of Christ, our Messiah, please be reminded of how much He loves us— "For God so loved the world that He gave His one and only Son, that whoever believes in Him shall not perish but have eternal life". John 3:16.
With all our struggles today, I hope that these reminders have brought you encouragement in to your life.
Merry Christmas. God bless.
*******
CHRISTIANNE HOPE LIM
Merry Christmas everyone!
When Pastor asked all of us members in the BOT to write a short message of encouragement for Christmas, I panicked a little bit and got nervous because I had no idea what to write about as I'm not a great public speaker.  So I prayed and asked the Lord to tell me what I should write about.
I kept re-reading Pastor's email request in which he suggested two things: to write about and share our personal testimony, or about our experience as a TMEC Leader and member. Somehow, I was drawn to the second. So, for those of you who don't know me, my name is Christianne Lim and I've been attending TMEC since God started it 30 years ago. I grew up here, my entire family attended this church.
Growing up in this church, everything was familiar and easy. If we had visitors or a new family starts attending the church regularly, my family would already be talking to them and later on, they would know who I am just because they knew my family!
I joined ministries because my cousins were in them and they asked me to be part of those. I said sure why not? I was comfortable as I was going with the flow. But fast forward to when the split happened, things were different. My family left actually and now there's only a handful of us left here. I didn't know a lot of people anymore. I felt like I was an outsider or stranger and became uncomfortable as I felt I didn't have a place here.
It was definitely a sad time in the history of TMEC. But despite all of that, there's the one thing that I'm amazed about 'til this day – I never once felt like I had to leave. I truly believe that it was because God gave me that need and desire to stay. I had no idea why at all, but I know that He gave me a desire to be involved and to work through my discomfort. I trusted that He would lead me to the right ministry.
Now here I am part of the Church Events team and the BOT and I love it and find joy in everything we do here. The thought to be part of the BOT had never crossed my mind. I didn't think, actually I still don't think I'm really qualified, but I know that God is the one that's working in me and through me. It has definitely been a challenge and I'm learning a lot about the church, myself and definitely a lot of adjustments to be made here and there, but I'm incredibly thankful every minute for God placing me here.
9 But he said to me, "My grace is sufficient for you, for my power is made perfect in weakness." Therefore I will boast all the more gladly about my weaknesses, so that Christ's power may rest on me. 10 That is why, for Christ's sake, I delight in weaknesses, in insults, in hardships, in persecutions, in difficulties. For when I am weak, then I am strong (2 Corinthians 12:9-10).
*******
CHRISTIANNE DE LEON
Good morning, and Merry Christmas!
Two weeks ago, I had an opportunity to be a part of our church's Children's Christmas Event. We had set up the periphery of our sanctuary with different scenes of the past to teach and remind the children of The First Christmas. It was a simple and short event that took about thirty minutes of the children and their parents' or guardians' time.
From my perspective, I believe that the Children Ministry Team delivered what we prayed and planned for. The sanctuary was prepared. The needed participants came, given their roles and did their part. The children came with their parents. The First Christmas story was told in a short version. The gifts for the children were given. And then, off they went. It was good!
Events like these, even as simple and little as it may have been, need planning and preparation. Time and timing are crucial. People are needed in order for tasks to be executed. And carefully thought-out details add beauty and help tie up and support the whole scheme.
This, actually, reminds me of God's work in the execution of The First Christmas. He alone, from the beginning, after the Fall of Man, had planned the first coming of The Messiah. He involved and chose imperfect people to prepare for and execute the biggest event in the history of mankind. His chosen people waited for almost five hundred years for this waited event to happen. He timed a star to shine so bright where Jesus was born. Heavenly hosts were there to celebrate.  Even the animals were invited along with the shepherds. His whole creation rejoiced in the coming of the King of kings!
God never ceases to amaze me! When God plans an event, it's The Event! And it's definitely a privilege to be invited let alone be involved in God's plan. Don't you think? I think and believe so. I would want to be invited and be involved in such big event as that. Would you? To the ones who were not invited in God's big event, Jesus' birth was just another ordinary night to them. But it was life changing to those whom God chose to be involved and had invited to Jesus' birth. It was certainly life changing for Mary and Joseph.
Time and time again, Mary and Joseph's readiness and willingness to obey God's calling encourage and also challenge me. In Luke 1:38, after Angel Gabriel spoke to Mary it says, "Mary said, 'I am the servant of the Lord. Let this happen to me as you say'". There was no negotiation between Mary and the Angel. Angel Gabriel did not have to go back and forth to God and Mary for Mary to agree. She just simply accepted her role as part of God's plan. The same way with Joseph, her husband. He, at first, did not understand. But when an angel of the Lord came to him in a dream and explained to him what was happening and about to happen, he went and did his part as soon as he woke up (Matthew 1:18-24).
Mary was awake. Joseph was asleep. It did not matter in what state or form or stage of life they were in. God's timing became their schedule and God's plan was their priority. Both of their lives changed. Their plans for themselves had to wait. In Matthew 1:25 it says "but (Joseph) did not have intimate relations with (Mary) until she gave birth". Both of them, agreed to put their "lives" on hold because God chose them to be involved in His grand plan. How hard is it for us hold our lives for God? How hard is it for us to wait on Him? I don't know about you but, I still struggle many times.
Another thing I had observed about the couple. When God gave them the task of caring for Jesus, God didn't make them rich. God didn't say you do this for me, I will give you this. Joseph and Mary stayed being poor and lived in Nazareth, a city of low esteem during Jesus' time. In fact, Nathaniel, one of Jesus' disciples, asked "can anything good come from Nazareth?" (John 1:46) before meeting and talking with Jesus. Mary and Joseph continued on the task of obeying God in spite of life circumstances. They raised Jesus as their own. People knew Jesus as Joseph's, a carpenter, son (John 6:4). This made me think of my attitude toward serving our Lord. Do I really have pure intentions of serving our Lord? Or, is my heart tainted with selfish motives?
I had enjoyed every single part of preparing and executing the Children's Christmas Event. There were times I had experienced of being tired and had lack of sleep prior to it. It was, however, rewarding in the end. I saw the children's and some of their parents' eyes light up during the short telling of The First Coming of Christ. Seeing them engaged made me smile. I went to bed that night tired and joyful. I praised and thanked God for what He did that night. I thanked Him for giving me another opportunity of inviting me to be involved in part of His preparation for the Second Coming of Christ.
Yes! Jesus is coming again! The First Christmas Story has not end. It was actually just middle of the God's story. Jesus is coming again! The question we should always be asking ourselves is am I being invited by God and am I involved in His preparation of Christ's Second Coming? If your answer is yes, then good! Let us encourage each other to keep on. If the answer is no, then its time to find out how you can be a part.
Merry Christmas everyone!
*******
DAVID P. DE LEON
When I was in the process of writing my address to the congregation, it took me some time to actually think of something worthwhile to say that I have not already addressed in the past.  Several Christmases ago, I was never able to enjoy the season the same way I did when I was a kid.  When I was young, Christmas was my favorite time of the year, even more so than my own birthday.  I relished watching Christmas movies like Home Alone and Die Hard (the T.V. version), listening to Christmas songs, enjoying the fresh coat of fallen snow, being with family and friends, and of course, getting my hands on those presents.  In recent years, I obtained responsibilities that are normal for adults and church leaders to have, and so my time and management of priorities were directed to more important matters.  The Christmas season would come and go and I would be left sitting by myself on the first of January asking, "What happened this Christmas?"
This was always the case every year and I never thought much of it, until several weeks ago when I was sitting at my desk with the sun radiating its morning light in front of me.  I can feel the Vitamin D seep into my pores as the warm sunlight gently touched my face, and made everything around me shimmer with a golden glow.  A thought swelled in my mind about the sun, about how the sun despite everything changing in the world, is constant each passing day.  The preacher in Ecclesiastes stated, "The sun rises, and the sun goes down, and hastens to the place where it rises (Ecclesiastes 1:5)."  Many people since the world began have seen the sun rise and set each day while they eventually fade away from the living like mist.  I realized or maybe I articulated at that moment, whether I liked it or not, that my life is changing with each passing day.  My body is in the process of decay until the day I will be with the Lord.  Familiar situations like Christmases in the past will never be the same.  Nostalgia as great as it is, will never be repeated in its purest form.  People will come and go within our lifetime like ebbs and flows of a tide.  I recall a time in a Messenger thread when my cousins and I were reflecting on an uncle who passed away, and how it hit close to home for most of us because death can also come to our own parents at any day.  We cannot stop these changes in our lives, but what we can do is make the most of the time that we currently have, responsibly of course.
This year, I made a conscious decision that I would try to soak up as much of the Christmas season and spend time with other people despite my responsibilities and my introverted nature.  For example, instead of listening to my usual song playlists, I started listening to Christmas songs on the radio.  One time after work, I made snow angels, but that was because I slipped and fell and there was a lady walking by and I didn't want to make things weird.  At times, I would just stop and marvel at the lights and decorations on houses.  I even took time to enjoy opening Christmas presents even if those presents were not mine.  Why am I making such an effort to make the most of my time as much as possible?  I figured that when the day comes when I will be separated from my loved ones, these memories I am collecting, will help my resolve in going through life's trials, and they will also strengthen my hope for our inevitable reunion together with Christ.  And so, I will never forget the time when my sister and I were laughing hysterically in Best Buy when she was helping me buy parts for my computer. Or my mom giving me the pep talk with taking the vaccine as she drove me to the place where I received my first dose, or when my dad and I were watching those campy romantic Hallmark Christmas movies.  I will never forget this church and how everyone has personally shaped my life in one form or another.  It is an honor to spend time with everyone and share in each other's joys and burdens.
I encourage you brethren, to take some time of your busy lives, and recall some of the times that you spent with your families, friends, and people who you consider important.  Cherish the times you have with them even if they are mundane or trivial, so that when we reach the twilight of our lives, we will have no regrets in spending time with the people we love. Until Christ returns, I will repeat what Paul addressed the Jews and Gentiles in Rome, "May the God of hope fill you with all joy and peace in believing, so that by the power of the Holy Spirit you may abound in hope (Rom. 15:13).
*******